April Customer Newsletter - BrightPay 18/19 released
***** Please confirm whether you want to hear from us (GDPR related) - Important Update ****
From May 2018, we will not be able to email you about webinar events, special offers, legislation changes, other group products and payroll related news without you subscribing to our newsletter. This is due to the GDPR legislation. You will be able to unsubscribe at anytime. Don't miss out - sign up to our newsletter today!
BrightPay 2018/19 is Now Available. What's New?
The release includes exciting new features to make your payroll and auto enrolment journey easier and less time consuming including:
Auto enrolment minimum contribution increases (phasing) including letters
Enhanced feature to email documents & reports
Improved calendar features
BrightPay Connect - Improved GDPR security and cloud functionality
2018/19 Scottish Rate of Income Tax (SRIT) codes, rates and thresholds
Payroll journal export to Sage, Xero, Quickbooks, Exact & Kashflow
API integration with Aviva
April 2018 National Living Wage rates
See what's new | Buy now | Download BrightPay 2018/19
You need to activate your BrightPay Connect licence to backup your data
After purchasing BrightPay Connect, you will need to activate your licence key code. If the licence is not activated, your payroll data will not backup automatically. Employees will not be able to access their payslips or request leave on the self-service portal. Activate your licence key code now to start availing of the many cloud benefits. Haven't tried BrightPay Connect yet?
Book a demo today | Find out more
BrightPay Announces API Integration with Aviva
BrightPay are delighted to announce that we are the first payroll software on the market to offer direct integration with Aviva. An API is a fully integrated tool that directly links both the payroll and pension provider together. This integration allows customers to submit their pension data file to the Aviva online portal from within BrightPay.
Free Bright Contracts Webinar: UK Employment Law Overview
As busy employers it can be difficult to keep up-to-date with the constant changes in employment law. In this webinar our employment law experts discuss what is new in employment law, recent employment law cases and have a look at the most frequently asked questions that come through our support line.

Register for free webinar | Bright Contracts
For Payroll Bureaus / Accountants
Payroll Data and GDPR: What you need to know about consent, emailing payslips, and your legal obligation
In this guide, we will specifically look at the impact of GDPR on your payroll processing and address the biggest areas of concern. We will walk you through some important steps to achieve GDPR compliance.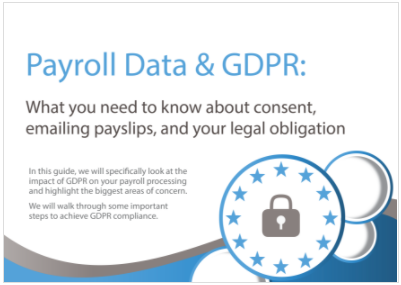 Download here | Register for GDPR webinar
Understanding Minimum Contribution Increases (Phasing) and its Implications
Your clients will need to be ready to implement the increased minimum contribution rates for auto enrolment from April 2018 and April 2019. Our guide and free webinar look at what you must know about processing the increases in contribution rates in 2018 (and clients should thank you for it).
Download white paper | Register for free webinar
How BrightPay Connect can help with GDPR!
Under the GDPR legislation, where possible the controller should be able to offer self-service remote access to a secure system which would provide the individual with direct access to his or her personal data. BrightPay Connect is a self-service option which will give your payroll clients and their employees online remote access to view payslips and other payroll documents 24/7.