BrightPay 2021/22 is Now Available. What's New?
BrightPay 2021/22 is now available (for new customers and existing customers).
2020 was challenging. Many of our development plans for the year had to be changed or postponed due to the need to cater for the Coronavirus Job Retention Scheme (CJRS) and the Coronavirus Statutory Sick Pay Rebate Scheme (CSSPRS) in BrightPay (not to mention the withdrawn-at-the-last-minute Job Support Scheme (JSS), which we invested many development hours on to no avail). We also have an Irish version of BrightPay, which likewise required additional time and attention on the equivalent schemes in the Republic of Ireland. And of course all of this had to be done in suboptimal conditions, with staff working remotely from home, often with young children. Demanding as it was, our team really stepped up, and as a company we were awarded with the COVID Hero Supplier Award at the Accounting Software Excellence Awards 2020.
At the same time, we have been working hard to bring a version of BrightPay to the cloud. While we have nothing to announce just yet, I can confirm it's going well, but it is still very much in development. We have a beta version planned, but cannot yet commit to a timeframe.
And so, given the time spent on COVID-19 features, along with that on cloud development, there hasn't been as much time as in previous years to spend on new features for BrightPay 2021/22. But we do have some new features, and we hope you'll find them useful. Rest assured that time-constraints have not caused any sacrifices to be made on quality – our goal to make the best payroll software continues as usual.
Here's a quick overview of what's new in 2021/22:

2021/22 Tax Year Updates
2021/22 tax bands. The emergency tax code has changed from 1250L to 1257L. When importing from the previous tax year, L codes are uplifted by 7, M codes are uplifted by 8 and N codes by 6.
2021/22 employee and employer National Insurance contribution rates, thresholds and calculations.
2021/22 Student Loan and Postgraduate Loan thresholds. Support for the new Student Loan Plan 4.
2021/22 rate of Statutory Sick Pay, including continued support for COVID-19 related periods of sick leave (in which SSP is paid from day one).
2021/22 rates and average weekly earnings thresholds for Statutory Maternity Pay, Statutory Adoption Pay, Statutory Paternity Pay, Statutory Shared Parental Pay and Statutory Parental Bereavement Pay.
2021/22 rates and calculations for company cars, vans and fuel.
Support for off-payroll workers.
Ability to process 2021/22 HMRC coding notices.
April 2021 National Minimum/Living Wage rates. The top minimum wage age threshold has been reduced from 25 to 23.
Eligible employers can continue to claim Employment Allowance which can be used to reduce Employer Class 1 Secondary NICs payments to HMRC.
Updated P11, P45, P60, P30, P32, P11D and PBIK forms.
Updated RTI submissions in line with the latest HMRC specifications. BrightPay continues to be officially HMRC Recognised for all submission types (FPS, EPS, NVR, EXB, CIS300, CISREQ).
Continued support for the Coronavirus Job Retention Scheme (CJRS) and the Coronavirus Statutory Sick Pay Rebate Scheme (CSSPRS).
Automatic Enrolment Updates
2021/22 qualifying earnings thresholds.
For 2021/22, the minimum required pension contribution level continues to be 8%, at least 3% of which must be contributed by the employer.
Various enrolment/contributions API submission and CSV formats have been updated to the latest versions to ensure continued compatibility with all pension scheme providers.
Pay Using Modulr
You can now create and send payment requests to Modulr directly from BrightPay, provided you have an active Modulr account that is set up for making payments. Payee information and amounts are automatically populated using the data from your payroll, making it a simple, fast and efficient way to pay your employees (or subcontractors).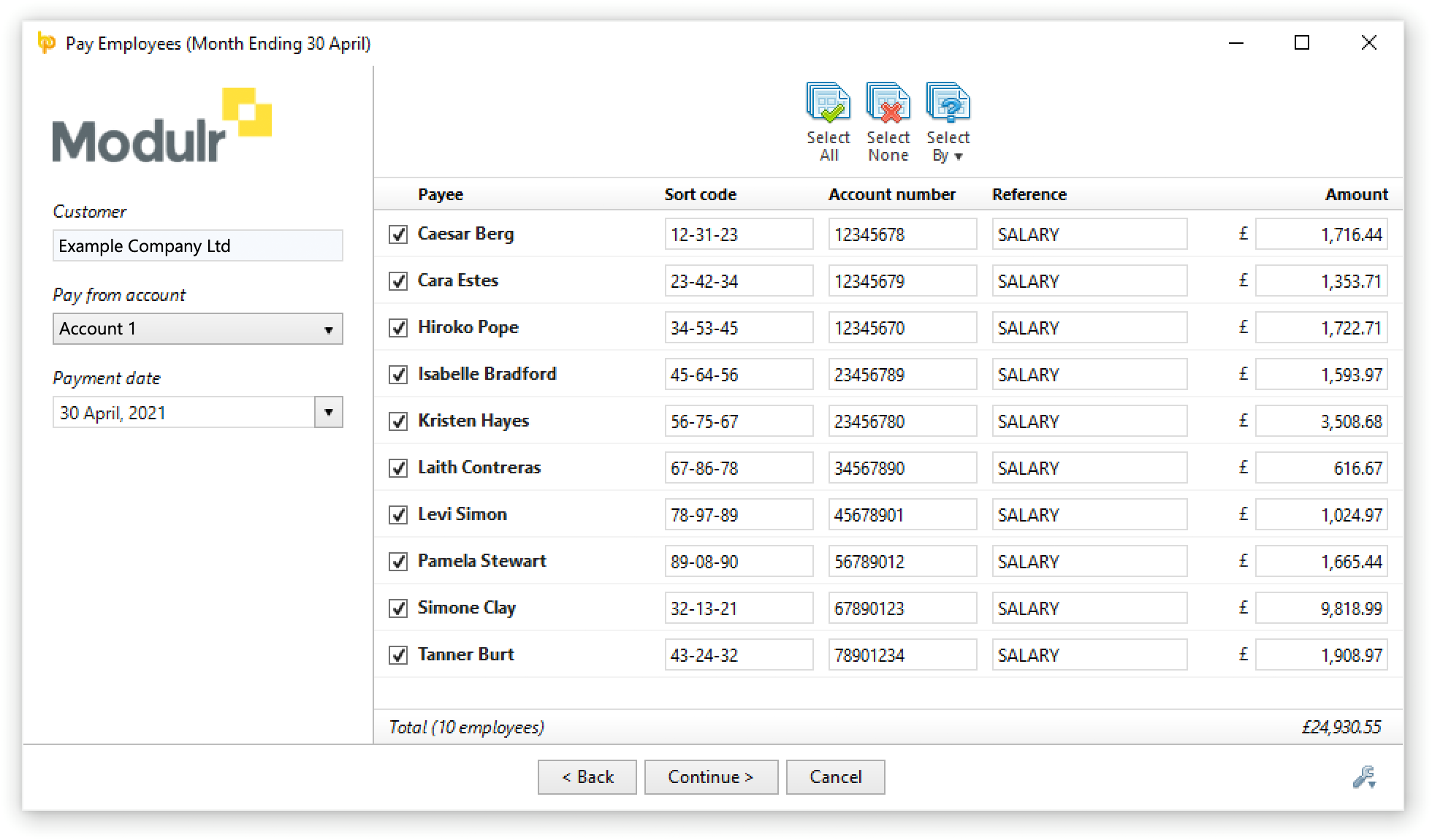 More Journal API Support
BrightPay 2021/22 now supports posting journals directly via API to FreshBooks, QuickFile and ClearBooks.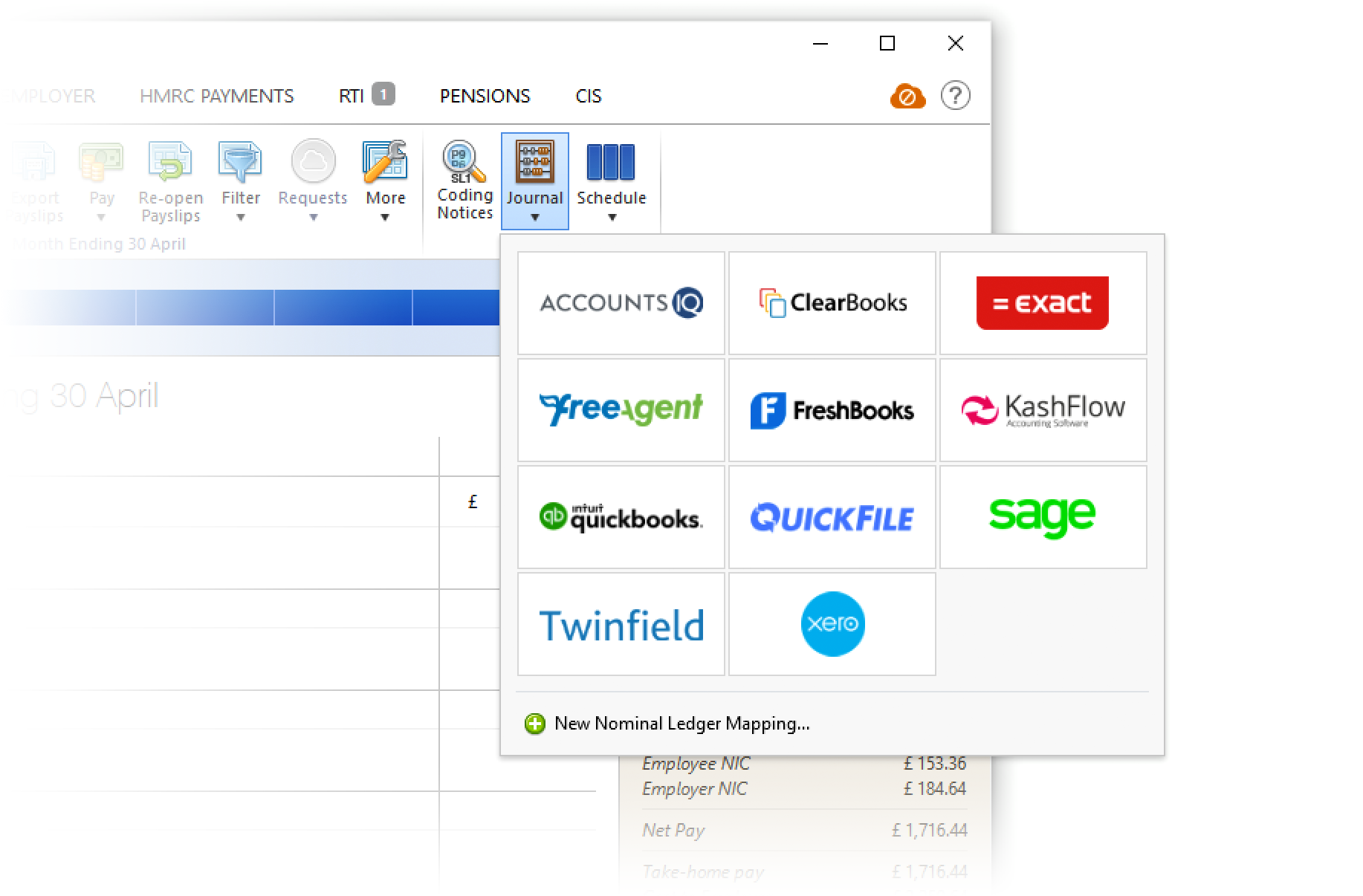 Other New Features and Updates in 2021/22
The way of setting up a pay schedule for the tax year has been changed in response to customer feedback, making it easier and more flexible.
Ability to auto-zeroise individual basic payments, additions and deductions for each pay period (i.e. repeat them into the next pay period as usual, but with a zero amount)
Ability to auto-generate works numbers.
BrightPay now shows the total "number of employees" in many more on-screen summaries and report documents.
CIS – New custom P&D Statement template design that is able to contain much more information than the standard HMRC template (e.g. breakdown of hourly payments, addition subcontractor information, etc.)
CIS – BrightPay is now smarter about automatically ticking/unticking and including/excluding subcontractors from various lists or reports by default depending on whether they received any pay in a tax period.
More employee fields are importable from CSV, and a few column options have been added to Analysis.
Several additional minor improvements throughout the entire BrightPay user interface, as well as the latest bug fixes and security improvements.
Includes all updates made to BrightPay during the 2020/21 tax year
Although 2020/21 updates were primarily focused on the CJRS, we did add a few other enhancements, all of which are of course included in BrightPay 2021/22. See our release notes for full details. Here's a quick reminder of some of the main areas of improvement:
Supports the latest UK and London Living Wage rates, announced in November 2020.
New message in HMRC Payments that lets you know when the equivalent annualised NIC-able pay would put you in excess of the Apprenticeship Levy threshold.
New "Amount due to HMRC" column is available to be displayed on the BrightPay startup window.
BrightPay now uses the Microsoft Edge WebView2 Runtime to display web-based content, ensuring technical compatibility with the requirements of modern web services.
What's Next?
We're continually at work on the next version of BrightPay, developing new features and making any required fixes and improvements. See our release notes to keep track of what has been changed to date at any time.