What's New in BrightPay 13.5?
BrightPay 13.5 is a free upgrade to our 2013/14 payroll software. It adds many new features to BrightPay, including some popular customer requests.
Ability to Report on Specific Employer Items in Analysis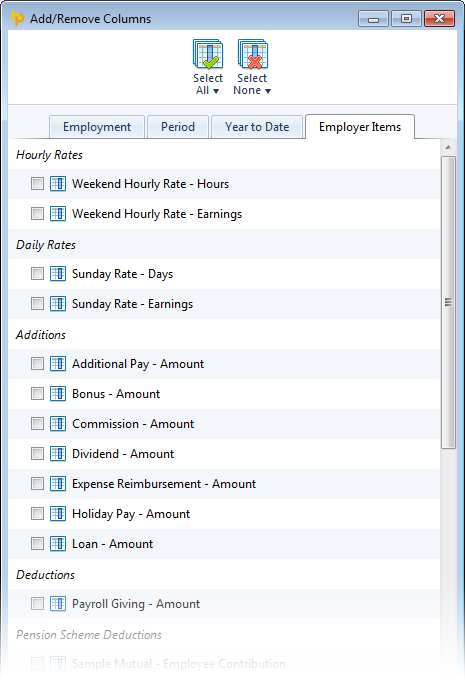 Until now, BrightPay's analysis feature was limited to reporting on the common payroll data that could apply to any employee's payslip in any period (e.g. gross pay, tax, NICs, etc.).
A popular request from customers was the ability to report on the employer specific data that is editable under the main Employer tab of BrightPay, including:
Specific addition and deduction types
Specific hourly and daily rates
Specific pension scheme deductions
Specific savings scheme transactions
This feature is now available in BrightPay 13.5. As you add/edit the above items and use them in payslips, their amounts become available for reporting in Analysis.
Also, to make it easier to build your reports, the Add/Remove Columns feature in BrightPay has now been organised into tabs.
Improved Departmental Reporting
When reporting by department, BrightPay now groups the departmental records in a more logical, useful way. An employee in multiple departments can now have his/her payroll values split out into each department within the results for a single period.

Ability to Switch Employees to a New Payment Schedule Mid Tax Year
Do you have employees who are switching from being paid weekly to being paid monthly? Or the other way around? Perhaps some need to switch to or from a fortnightly or 4-weekly pay schedule?
This feature is now available in BrightPay 13.5. In any period, you can now switch one, multiple or all employees to a new payment schedule. This can be done as many times as is required throughout the tax year.
Here's how it works (for example, when switching from weekly-paid to monthly-paid):
Finalise an employee's payslips up until the final week that she should receive a weekly payment.
Her next payslip will be set up in the following week. You want her next payslip to be in the following month instead, so choose this week in BrightPay and go to More > Switch Employee(s) Payment Schedule...
More than one employee can be switched if need be. Select the relevant employees and click Continue.
Select 'Monthly' as the new payment schedule.

BrightPay will automatically determine the next available month to switch to, or, if no monthly schedule has been set up, allow you to do so.
To prevent doubling up on payroll amounts, employees can only be switched to a later month that does not overlap with any already finalised weeks.
If there are one or more weeks which could be finalised before switching to a monthly schedule, BrightPay will warn you.
You can optionally choose to have the employee's basic pay automatically adjusted from weekly to monthly.

Click OK. BrightPay will remove the weekly payslip that is no longer relevant, and create the employee's first monthly payslip.
Other New Features and Fixes
Ability to ignore 'zero pay' payslips in analysis.
Fixes a bug in which an EPS (or NVR) cannot be created for mid-year-start employers.
Fixes a bug in which BrightPay will not accept an employee start date for mid-year-start employers.
Other minor fixes and performance improvements.
Upgrading
When you next launch BrightPay, the upgrade should be automatically detected – simply follow the instructions on-screen. If you have any problems upgrading, please contact us.