BrightPay wins Best Payroll Software of 2020 by Digital.com
Digital.com has added BrightPay to its list of best payroll software of 2020. The top 20 solutions were selected based on basic payroll functions, reporting, and additional features.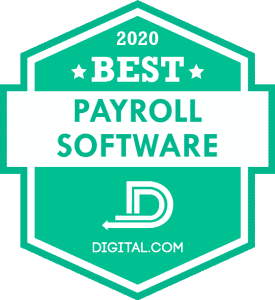 BrightPay and other companies were required to offer essential functions such as supporting all RTI submission types, full automatic enrolment functionality and HMRC recognised.
It was also necessary for the payroll software to offer additional features such as payroll journal integration and the ability to batch process multiple employers at the same time.
Digital.com's research team conducted a 40-hour assessment of over 210 payroll software companies across the web.
Digital.com reviews and compares the best products, services, and software for running or growing a small business website or online shop. The platform collects twitter comments and uses sentiment analysis to score companies and their products.

Payroll Software you can trust…
The award comes just one year after BrightPay was announced as the winner of 'Payroll Software of the Year' 2019 at the ICB Luca Awards. This also follows BrightPay winning Payroll Software of the Year 2018 at the AccountingWEB Software Excellence Awards.
With nearly 30 years of payroll experience, our products are used to process the payroll for over 320,000 businesses across the UK and Ireland. BrightPay also has an impressive 99% customer satisfaction rate and a 5-star rating on Software Advice.

BrightPay for SMEs
BrightPay includes several useful payroll features and support that are very beneficial for employers:
Since COVID-19 started impacting life as we know it, BrightPay introduced a comprehensive payroll response plan which to date includes 34 webinars, with over 26,000 attendees and released 15 software upgrades to automate the new scheme calculations.
This year we introduced payroll journal API integration with a number of new accounting packages. This allows users to send the payroll journal directly to their accounting software from within BrightPay. BrightPay currently has direct integration with AccountsIQ, FreeAgent, KashFlow, Twinfield, Sage One, Quickbooks Online and Xero with many more currently in development.
With BrightPay Connect, we have also launched the employer payroll dashboard which gives an overview of the payroll information in one place. It also automatically backs up your payroll file every 15 minutes when open and again when the payroll file is closed.
These are just a few of the many features we have in BrightPay that can help SMEs, but there's so much more on offer.
See how BrightPay can help your business
Don't miss out - book a payroll demo today to see these features in action and to discover more ways that BrightPay's award-winning software can improve efficiency and save you time.
Thanks again to Digital.com for the award and all our customers supporting us during this challenging period.

Related articles:
Blog: BrightPay wins 'Payroll Software of the Year 2019'
Blog: BrightPay wins 'Payroll Software Product of the Year'
Digital.com: The Best Payroll Software of 2020 - BrightPay