NOTE: You are viewing documentation for a previous tax year version of BrightPay.
Click here
to view the documentation for the current 2023/24 tax year version.
NIC Category Letters
National Insurance Category Letters
Employers use an employee's National Insurance category letter when they run payroll to work out the contributions they both need to make.
An employee's National Insurance category letter is dependent on their age and whether they have a separate (contracted-out) pension scheme.
Abolition of Employer National Insurance Contributions for the Under 21s

From 6 April 2015, employers will not be required to pay Class 1 secondary NICs on earnings up to a new 'Upper Secondary Threshold' (UST) - ££815 per week, £3,532 per month - for employees who are under the age of 21. Class 1 secondary NICs will however continue to be payable on all earnings above the UST.
In line with these changes, HMRC are introducing 7 new National Insurance Table Letters to be used from April 2015 to cater for these employees as follows: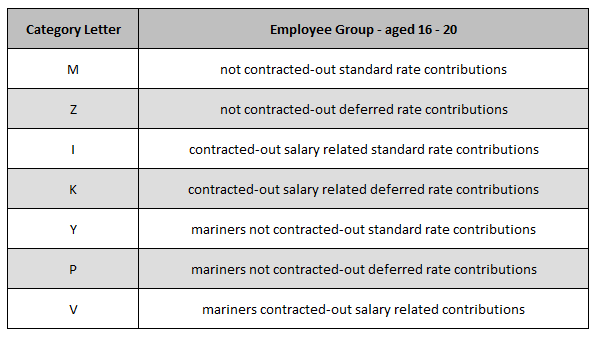 Three of the new letters (V, I and K) will be removed in April 2016 in line with the ending of 'contracted-out' status in relation to salary-related occupational pension schemes.

National Insurance Category Letters for Employees over the Age of 21