NOTE: You are viewing documentation for a previous tax year version of BrightPay.
Click here
to view the documentation for the current 2020/21 tax year version.
Childcare Vouchers
Childcare Vouchers operate as a salary sacrifice whereby employees can achieve tax relief on payments to approved childcare providers.
The amount that can be put through as a salary sacrifice depends on the marginal tax rate of the employee. The table below demonstrates the maximum levels of deduction and the associated tax relief:-
| | | |
| --- | --- | --- |
| Tax and NIC applied | Maximum amount that can be sacrificed per month | Total Monthly Savings |
| Tax 20% NIC 12% | £243 | £77.76 |
| Tax 40% NIC 2% | £124 | £52.08 |
| Tax 45% NIC 2% | £110 | £51.70 |
The employer also saves on employer's NIC and there are administration fees charged by the scheme.
The employer pays into the scheme amounts deducted from employee. The employee can then instruct the scheme to pay the approved childcare provider. Childcare Vouchers are accepted by day nurseries, childminders, holiday schemes, afterschool clubs and breakfast clubs.
Further details can be found at http://vouchers.employersforchildcare.org
To set up the deduction for an employee, in the Payroll tab, click on the employee and select Add under Additions and Deductions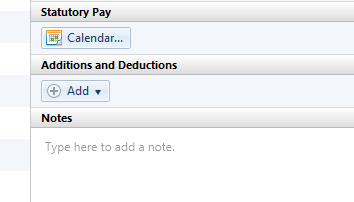 Next select New Deduction Type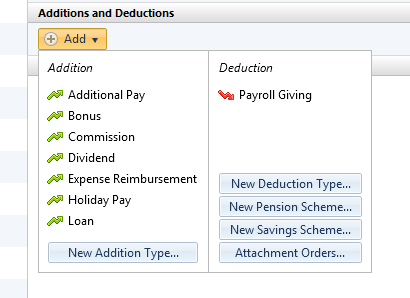 Then enter the description, tick the relevant boxes (note: you may need to check with the scheme provider that the salary sacrifice can be deducted)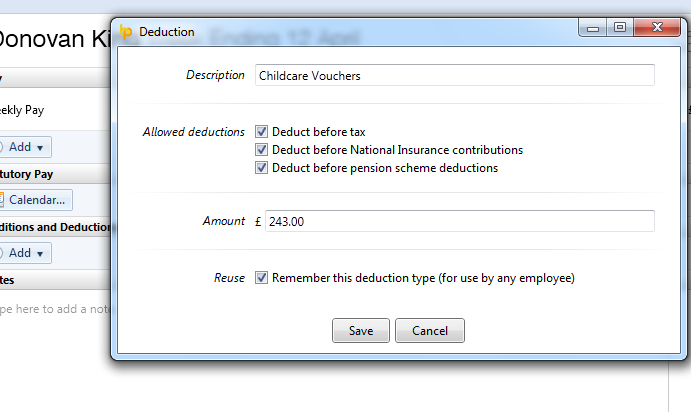 Click Save and the deduction has now been set up.
To instruct the software to keep making the deduction until further notice, click the spanner icon beside the deduction and select the option button below: