NOTE: You are viewing documentation for a previous tax year version of BrightPay.
Click here
to view the documentation for the current 2021/22 tax year version.
Adding Expenses & Benefits - Cars and fuel
To add expenses & benefits to an employee record go to Employees > Choose the Employee from the listing > Select "Expenses & Benefits"

1) Select "Add Benefit"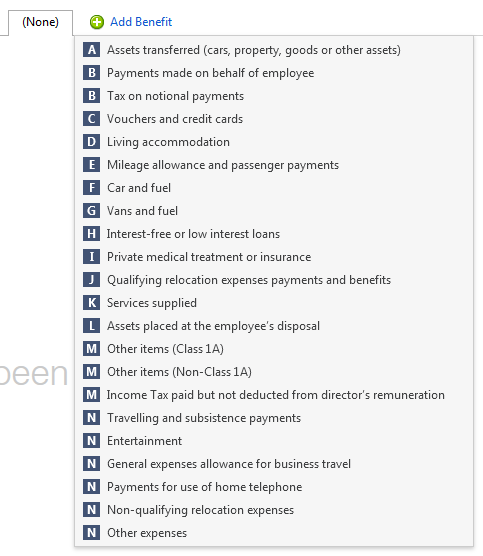 2) Select "Car and Fuel"
3) Enter the Make and model and the date the car was first registered
4) For cars registered after the 1 January 1998, enter the approved CO2 emissions figure if the car has one (this will determine the appropriate percentage for calculating the car benefit charge) Further details of the appropriate percentage for calculating car benefit charge can be found in TC2B and can be found here

5) Enter the engine size of the car
6) Enter the fuel/power used (there is a 3% supplement charge for diesel cars)
7) Enter the dates the car was made available to the employee if within the 2017/18 tax year.
8) Enter the list price of the car and the value of any non-standard accessories

9) Enter employee contributions where applicable

10) Indicate if the cost of private fuel is paid for by the employer

11) When the benefit information is complete, select "save"
12) If any required information has not been entered for the benefit BrightPay will give a validation error
13) Using the information entered, BrightPay will calculate the cash equivalent of the car and fuel where applicable and will work out the number of payments to be made to the employee in the tax year and divide the cash equivalent of the benefit by the total number of payments to be made.
14) If the tax accounting method is PAYE (payrolling of benefits), when complete select the payroll utility, choose the employee and the benefit will appear under Pay & Benefits

15) An "Edit" facility is available to view/edit the benefit details
16) The benefit figure will appear on the payslips as "taxable benefits", this will also flow through to the relevant Full Payment Submission (FPS)
The details of payrolled car benefits are now included on the FPS. They are included in the first pay period in the tax year that the car is first payrolled. They are re-included in a subsequent submission if any of the car details change (with an "Amended" flag).
Please note, further information can be found in HMRC's booklet 480 (2017) which can be accessed here