NOTE: You are viewing documentation for a previous tax year version of BrightPay.
Click here
to view the documentation for the current 2021/22 tax year version.
Adding Expenses & Benefits - General
To add expenses & benefits to an employee record go to Employees > Choose the Employee from the listing > Select "Expenses & Benefits"

1) Select "Add Benefit"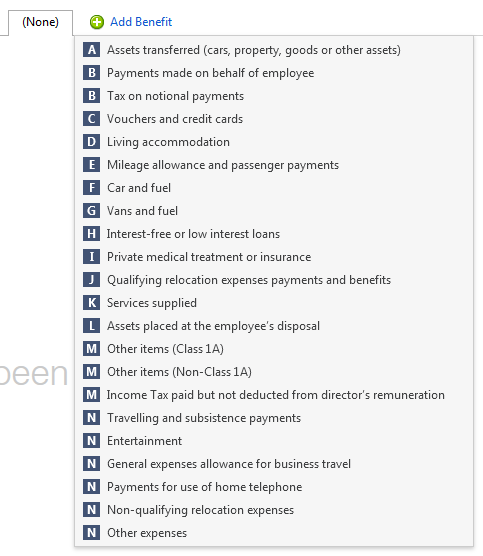 2) From the options select the applicable benefit/expense
3) The information that is required when you select a benefit is dependent on the benefit chosen, examples of some of the information required include Cost, Employee contribution (if applicable), Description etc
4) If the benefit selected is a benefit that can be payrolled, there will be an option to change the "Tax accounting method"

5) When the benefit information is complete, select "save"
6) If any required information has not been entered for the benefit BrightPay will give a validation error
7) If the tax accounting method is PAYE (payrolling of benefits), when complete select the payroll utility and choose the employee the benefit will appear under Pay & Benefits

8) An "Edit" facility is available to view/edit the benefit details
9) The benefit figure will appear on the payslips as "taxable benefits", this will also flow through to the relevant Full Payment Submission (FPS)