NIC Category Letters

Employers must use an employee's National Insurance category letter when running payroll to work out the National Insurance Contributions they both need to make.

Below is a summary of NIC Category Letters and which employee group they apply to: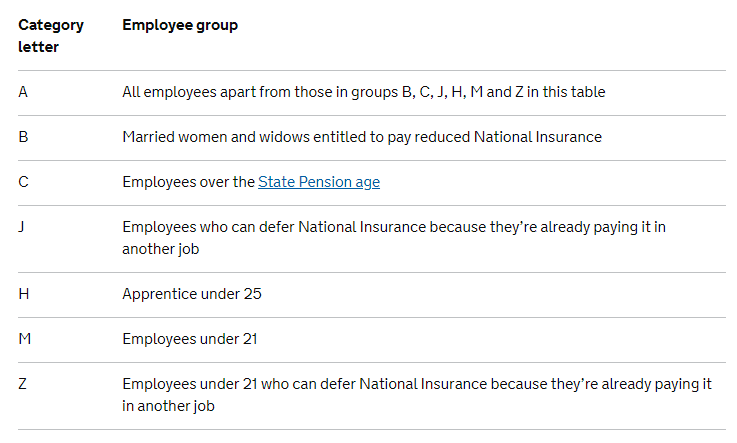 Apprentices under 25 in qualifying circumstances
Since April 2016, employers of apprentices under the age of 25 are no longer required to pay secondary Class 1 (employer) National Insurance contributions (NICs) on earnings up to the Apprentice Upper Secondary Threshold for those employees.
Such apprentices must be following an approved UK government statutory apprenticeship framework (frameworks can differ depending on the UK country).
NI category 'H' is to be used for apprentices under 25 in qualifying circumstances:




Employer National Insurance Contributions for the Under 21s

Since 6 April 2015, employers are not required to pay Class 1 secondary NICs on earnings up to the 'Upper Secondary Threshold' (UST) for employees who are under the age of 21. Class 1 secondary NICs will however continue to be payable on all earnings above the UST.

The following National Insurance Table Letters are applicable for under 21s:




Please note: if your employee is under 21 and meets the same conditions as an apprentice under 25, use NI category 'H'.




National Insurance Category Letters for Employees over the Age of 21