Enter HMRC Payments Amount

Users can enter in the amount paid and date for HMRC Payments in an employer in Connect. This information will then synchronise down to the HMRC Payments section in the employer file in BrightPay once the employer file is opened and linked to Connect.
This option has to be enabled by an administrator in Connect under the Settings tab on the bureau's home screen and select Bureau Details.

There are two options to enable to apply to all employers on the Connect account:


Allow your clients to enter the amount paid for HMRC Payments


Send a notification email to the user who recently worked on the employer file when HMRC Payments information is updated in Connect

Once the first option to allow clients to enter the amount paid for HMRC Payments is enabled you will see the option for the notification email. This feature is optional.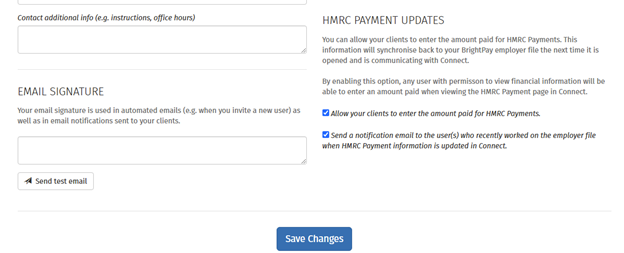 If enabled, the user that synced BrightPay will receive the notification email after the user has updated HMRC Payment details in Connect: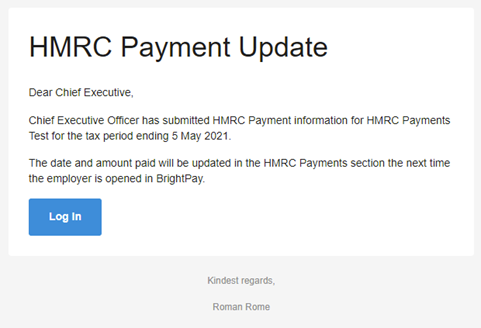 Once this option is enabled, if you go to the HMRC Payments in Connect and select a tax period, on the P30 preview you will see the Enter Payments option at the bottom of the P30 Preview.

The amount can be auto-filled or the user can manually enter in the amount paid. The user needs to click Submit to submit the request.

The payment will be pending until the employer file in BrightPay is opened to synchronise down the information to the HMRC Payments section. If needed the user can cancel the pending request by selecting 'Cancel this Request'.



Once the details are entered and synchronised down to BrightPay, a summary of the payment details activity can be viewed in Connect under the Enter Payment Details feature. The details will be then updated on the P30 Preview in Connect too.



When the information has synchronised down to BrightPay from Connect, there will be a small line of text to show when this was last updated from Connect and confirmation of the user that entered in the details in Connect.