Registering for BrightPay Connect

To register for BrightPay Connect, simply click the grey cloud icon in your BrightPay payroll software and select 'Create an Account'.

1) Enter your details in the fields provided, and tick the box to agree to the terms and conditions, if you are happy to do so.

2) Next, tick the box 'I'm not a robot' and select Submit.

3) An email will subsequently be sent to the email address provided with instructions on how to complete the registration process.

4) On receipt of this email you will be provided with a link, which will bring you through to your login screen. Simply log in to BrightPay Connect with your email and password.

5) Your BrightPay Connect Dashboard will now be displayed on screen.

6) Initially you will have no employer files added - it will state on your BrightPay Connect Dashboard "You're ready to link your first employer to your BrightPay Connect account".

7) Linking to BrightPay Connect can be done in your employer file in BrightPay.



You are now ready to link your first employer file to your BrightPay Connect account. For assistance with this, click here .


I've Forgotten my Password!
If you have forgotten your password for BrightPay Connect you can reset it either by
1) On BrightPay's starting screen, select the 'Backup & Self Service' Cloud tab and click the 'Forgot Password?' link: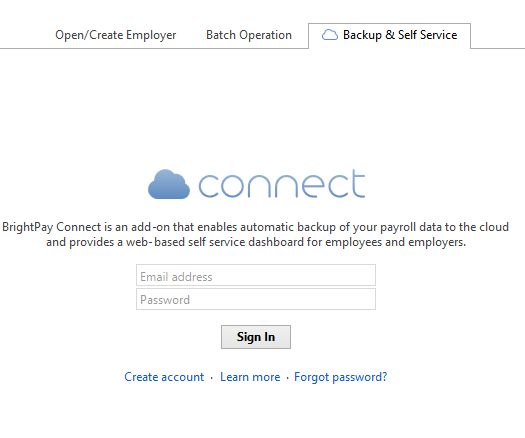 or
2) While you are in an employer file, click the Cloud icon at the top right of the screen and select 'Forgot Password?'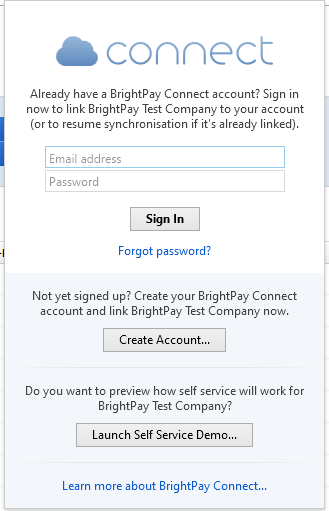 A password reset notification email will be sent and please click on the link in it to go through the steps to enter in your new password.

Your new password must be at least 6 characters long and contain at least one numerical character