Importing Payments, Additions & Deductions in a single CSV File
BrightPay facilitates the importing of a mix of payments, additions and deductions in a single CSV file. This offers an alternative to the importing of different kinds of pay items (period payments, hourly payments, additions, deductions, etc) in single runs.

Up to 5 pay items can be imported for each category of pay item.

To import a mix of payments, additions and deductions using a single CSV file, go to Payroll > More > Import Pay Records from CSV File > Import Mix of Payments, Additions and Deductions...

1) Browse to the location of your CSV File


2) Select the required file and click 'Open'


3) Your employee data will be displayed on screen. For each column, choose the payment data it represents. Ignore any columns and uncheck any rows you do not wish to be imported.


To assist with column selection, simply select 'Match Header Row'. BrightPay will try and match as many columns as it can for you


Also indicate whether you would like to replace the equivalent pay items that are already present on the employees' payslips with the new amounts being imported in by selecting/de-selecting 'Replace Existing'


Should you wish to remember your column selection for future imports, instruct BrightPay to 'Remember Columns'. BrightPay will subsequently remember the column selection used in the previous import when next importing a CSV file.


Should you wish to reset your column selection at any time, select 'Reset All Columns'.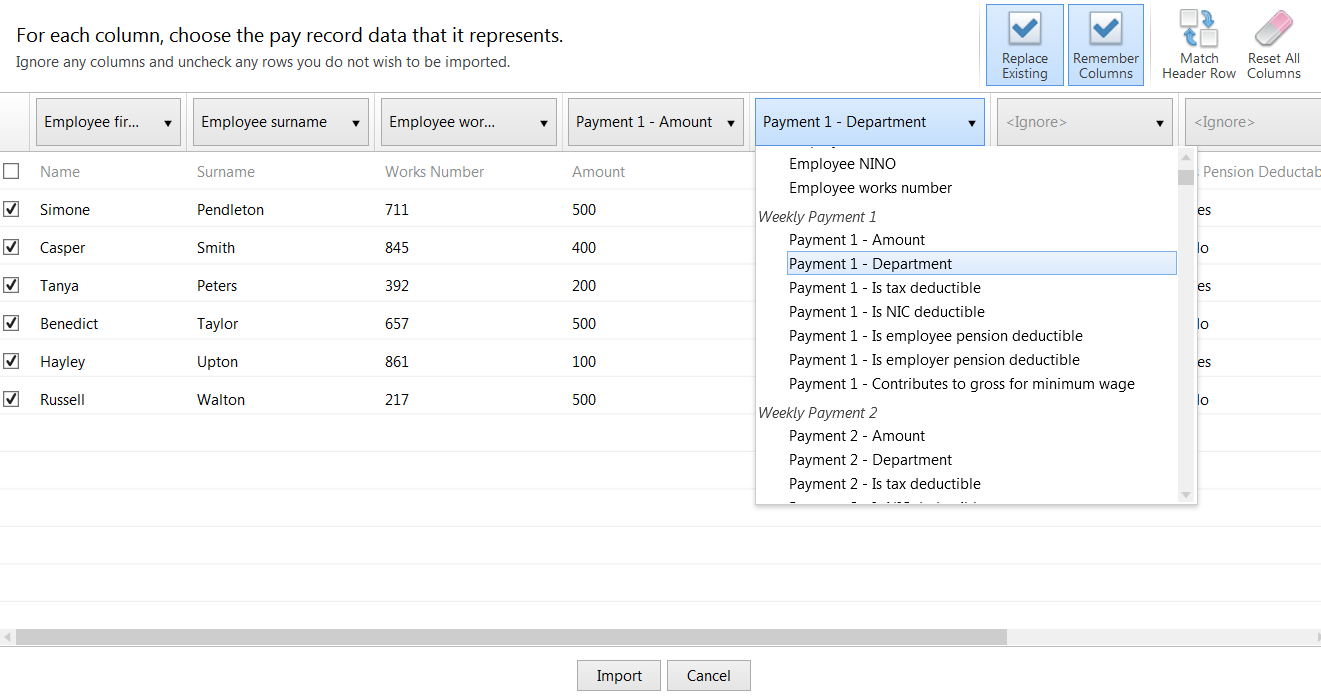 4) Click Import to complete the import of your payment information.
A comprehensive list of pay record data can be imported into BrightPay for each category of pay item. Please click here to view the file specification and listing of pay record data that can be included on the CSV file.

An accompanying CSV file template is also available here. Users may wish to add to or remove columns from this template according to individual requirements, and using the file specification as a guide.