Setting your Payment Schedule
BrightPay allows Weekly, Fortnightly, 4-Weekly, Monthly, Quarterly and Yearly payroll to be run simultaneously, if required.

After allocating a pay frequency to an employee within their employee record, BrightPay will recognise the pay frequencies that are required for the employer.


Before payroll can be processed within the Payroll utility, you must first set up the payroll schedules you require.

Please note: once a schedule has been set, this cannot be changed without re-defining (clearing down) your payroll data processed to date.



a) First, select the date when your first period of the schedule is to end on, followed by how your pay date is to operate.

b) Repeat for each payroll schedule you require.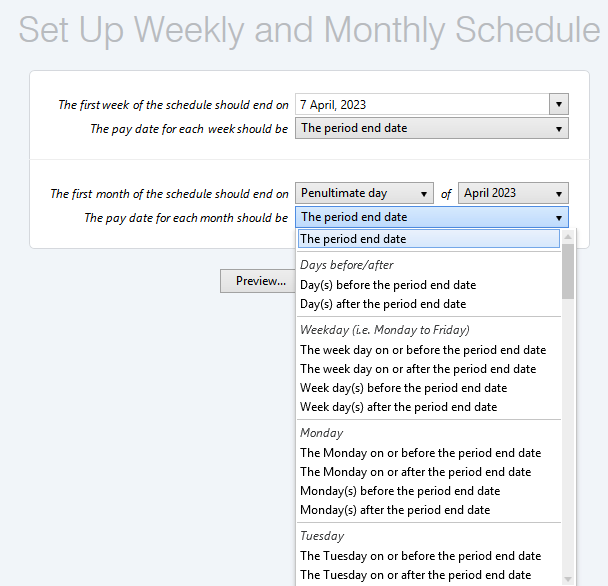 c) To preview your schedule of periods, simply click 'Preview'. This is always recommended for you to check that you have the correct number of pay periods you require for the year.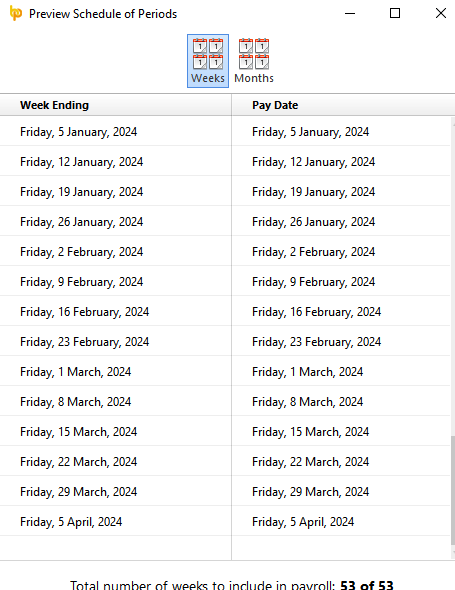 d) Click 'Continue' when ready to set your payroll schedules and to start processing payroll.



As employees are added to the payroll during the tax year, BrightPay will identify if a new payroll schedule is required and will prompt the user to set the schedule they require for the new pay frequency: