NOTE: You are viewing documentation for a previous tax year version of BrightPay.
Click here
to view the documentation for the current 2020/21 tax year version.
Importing Subcontractors from CIS Assistant 2015-16

If you have previously used CIS Assistant 2015-16, a CSV file can be created within the CIS Assistant software for importing your subcontractor information into BrightPay:
Within CIS Assistant 2015-16, select 'Utility > Create export file for BrightPay'



Click 'CSV File' and save your export file to a location of your choice e.g. to the Desktop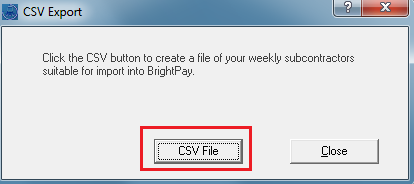 This export file can now be seamlessly imported into BrightPay by going to File > Import/ Export Data > Import Subcontractors from a CSV File. BrightPay will automatically align your columns with the data it represents.

Simply click 'Import' to complete the import of your subcontractor information.

Please note: following the import, it is recommended that all subcontractor details are reviewed before processing any payments to ensure information imported in is correct and still applicable.